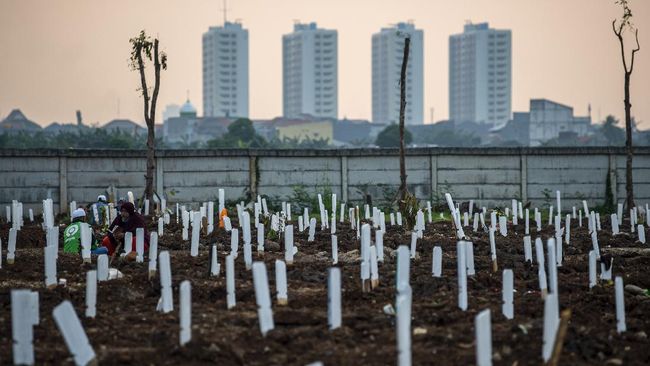 Source: CNN Indonesia
The Covid-19 Handling Task Force recorded 1,348 people died due to exposure to the Covid-19 corona virus as of Friday (20/8). The three provinces that contributed to the highest number of deaths were Central Java, West Java, and East Java.
Based on CNNIndonesia.com's count, the number of daily Covid-19 deaths in the seven Java-Bali provinces contributed 71.88 percent or 969 deaths from the cumulative number of national Covid-19 deaths as of last Friday.
Central Java was recorded as the area with the highest number of deaths, namely 363 cases in a day. Then, West Java which contributed to 268 deaths, followed by East Java as many as 203 people who died in 1x24 hours.
Furthermore, 19 provinces recorded deaths above 10 cases yesterday. These provinces include Bali with 73 cases, Yogyakarta 47 cases, East Kalimantan 45 cases, Lampung 35 cases, Riau 30 cases, South Sumatra 24 cases, and Bengkulu 22 cases.
Then, North Sumatra Province as many as 21 cases, South Sulawesi 21 cases, South Kalimantan 19 cases, Aceh 18 cases, Central Sulawesi 17 cases, West Sumatra 17 cases, Gorontalo 14 cases, Bangka Belitung 16 cases, DKI Jakarta 11 cases, West Kalimantan 16 cases, and East Nusa Tenggara (NTT) 10 cases of Covid-19 deaths.
Meanwhile, eight provinces recorded additional residents who died from COVID-19 with a number of less than 10 cases. Then, four provinces recorded zero deaths due to Covid-19 yesterday.
For information, the total number of positive cases of Covid-19 since the beginning of the outbreak in Indonesia in March 2020 until yesterday was 3,950,304 cases.
Of that number, 3,499,037 people were declared recovered, 327,286 people underwent treatment in hospital and self-isolation, and 123,981 others died.