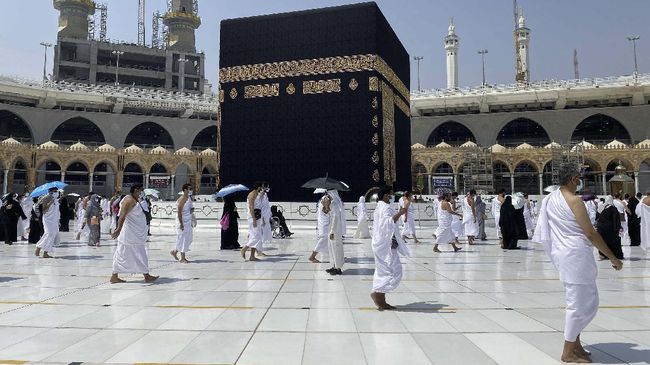 Katadata.co.id - The Indonesian government has officially opened Umrah trips for pilgrims from Indonesia. Today, Saturday (8/1) as many as 419 pilgrims departed from Soekarno-Hatta Airport for Saudi Arabia.
Samira Travel's partner, Ahmad Fitriadi, said that the first batch of Umrah pilgrims was a historic moment because it had been almost a year that Indonesian Umrah pilgrims had not set foot in the Holy Land. Fitriadi said that all the pilgrims who departed today were those who registered through Samira Travel.
"All the congregation departed using one plane with direct flights from Soekarno-Hatta to Medina," he said when contacted by Katadata, Saturday (8/1).
According to Fitriadi, the last time his party dispatched Umrah pilgrims from Indonesia was in December 2020 and January 2021. After that, the government of Saudi Arabia closed the door for pilgrims from Indonesia.
So how much does Umrah cost during a pandemic? Fitriadi said that his party gave three packages of choice to prospective pilgrims. The cheapest costs are in the range of IDR 28.1 million with three-star hotel facilities in Medina and five-star hotels in Mecca. Furthermore, there is a medium package at a price of Rp. 30.1 million and a premium package of Rp. 32.7 million.
However, this fee does not include the cost of quarantine and PCR tests for prospective pilgrims. Fitriadi explained that there are a number of special requirements that the government has implemented during the pandemic for Umrah pilgrims. They are required to carry out quarantine, health tests and PCR one day before departure. Quarantine is also mandatory after returning to the country.
"The government's latest rule calls for quarantine from abroad for seven days," he said.
Fitriadi explained that his party set a quarantine fee of IDR 540,000 per day for one person. This fee includes the PCR test.
Regarding the vaccine requirements, Saudi Arabia now accepts all vaccines in Indonesia. However, specifically for Moderna, AstraZeneca, Johnson & Johnson, Pfizer vaccine recipients, they can enter Saudi Arabia directly without quarantine. Other vaccine recipients such as Sinovac must quarantine in Saudi Arabia for 2 days and three nights.
"The quarantine fee in Saudi Arabia is included in the packages we offer," he said.
Requirements for a complete dose of vaccine are also mandatory for the congregation. However, the Saudi Arabian government is now allowing children aged 12 years and over to participate in Umrah on condition that they have been fully vaccinated.